On May 3rd, the Massive Data Institute hosted the MDI Scholars Research Showcase Spring 2023. Over the past semester and longer, scholars have worked with faculty and researchers on interdisciplinary research projects at the intersection of technology and public policy. This showcase was an opportunity for the 43 undergraduate and graduate scholars from across Georgetown to present their work. 
The event began with opening remarks by McCourt School of Public Policy Dean Maria Cancian. She said, "The scholars represent the best of who we are at Georgetown. Each of you, and this work, brings our mission to life: students and scholars, teaching, learning, and working– across disciplines, in service of the common good." The projects presented during the showcase ranged from misinformation to forced migration to environmental policy. Each one on the cutting-edge of its field. 
Shaping the next researchers and policymakers 
Through faculty mentorship, research projects, and skills-building lessons, the MDI Scholars Program cultivates Georgetown students into researchers. "I had never been involved with research on campus before, so I learned so much about the field of research through my experience as an MDI Scholar. I also gained so much confidence in my technical skills." said MDI Scholar Fiona Calcagnini (C'23).
Fiona Calcagnini and her research partners Rich Pihlstrom (C'24) and Sabrina Kwenda (SFS'23) collaborated with MDI Director and Professor of Computer Science Lisa Singh as well as Autumn Toney to understand how peer-reviewed, published, scientific articles are used (or misused) as evidence as part of misinformation conversation on social media. During her time as a scholar, Fiona shared that she not only improved her technical coding skills, but MDI "also taught soft skills, like working on group projects, communicating with team members, and dividing up research and programming assignments." 
Aidan Pizzo (C'23) echoed Fiona's sentiment, "As an MDI Scholar, I have gained experience in numerous programming languages and environments, as well as learned how to thrive in a collaborative research pursuit and how to approach problems as a data scientist." Aidan worked with Didier Akilimali (C '23) and Sonali Subbu Rathinam (DSPP '23) in partnership with Dr. Lisa Singh and Dr. Nathan Wycoff on modeling forced migration in Ukraine from February to October 2022 using organic data such as Google searches, Twitter Tweets, and various news sources. And through this work, Aidan has begun to visualize a future career trajectory in public policy or public health that is still grounded in computer and data science.
Ryan Ripper (DSPP'23) was intrigued by the MDI Scholars Program because it enabled him to explore the application of theoretical data science topics within the public policy realm. Ryan was a Scholar for four semesters, and during his final semester at Georgetown he used alternative word embedding approaches to compare congressional candidates by leveraging Twitter Tweets and Retweets for candidates running for office during the 2022 election cycle. When Ryan spoke about what is to come next after graduating, he said, "Now at the end of my degree program, I am pursuing interests that align with the Institute's primary goal of using data driven research to empower public policy decision making. My experience as a researcher while as a Scholar has definitely influenced my next steps in my career as I pursue other research and research related projects."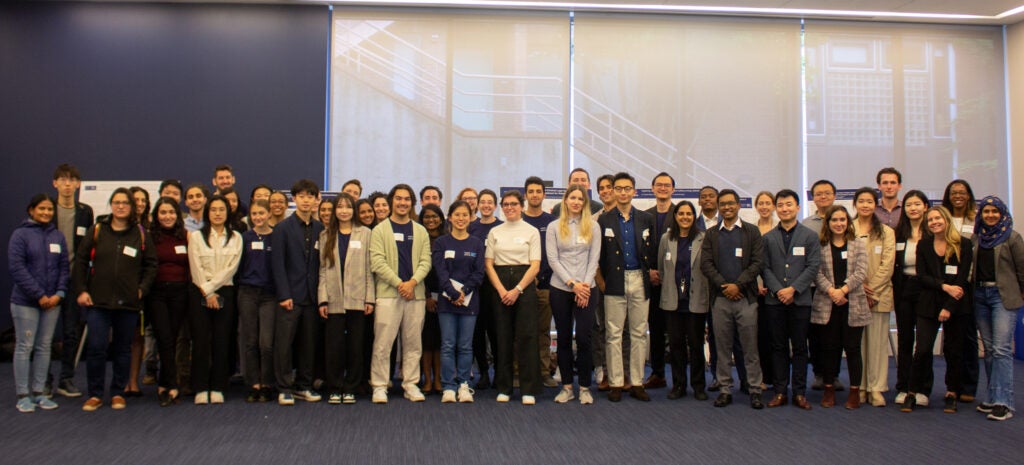 The MDI Scholars Program has allowed students across the University to grow as learners and has left an impact on their futures. To learn more about the MDI Scholars Program, click here. To see the poster presented during the showcase, visit the poster page.
Written by Elizabeth Ledwith (MSB'24), Communications and Student Engagement Academic Assistant at MDI.