The Place-Based Indicators Project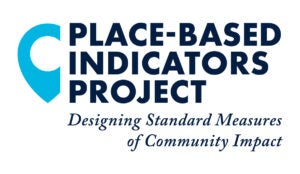 Data can help us answer important questions about our communities, such as "has public safety increased in my city" or "is housing in our town affordable?" It is critical that we get the answers to these questions right—this information shapes what policies and programs are created, who is eligible for them, and how they get funded. Despite there being masses of data out there on all aspects of daily life, researchers, policy advisors and program managers working in government, academia and local organizations rarely have current, reliable data about their community at their fingertips. Instead, we must make do with outdated or imperfect data, or settle for indicators that are a poor substitute for what we truly are trying to measure.
The Place-Based Indicators Project: Designing Standard Measures of Community Impact seeks to advance easy access to high quality place-based indicators that use administrative data, federal statistical data, private data, open data, and anything in between. We are working to identify "blue ribbon" indicators, improve existing indicators and unlock new indicators that anyone, anywhere can use to understand the problems our communities are facing and how we can best solve them.
The Urban/Rural DivideContinue reading on Georgetown Massive Data Institute »…
September 28th, 2022