Engaging Education Data Users to Better Understand the Future of Privacy Enhancing Technologies
Written by Paige Kupas, MDI Journalism Intern
The Massive Data Institute (MDI) and DXtera Institute collaborated to host a conference titled "Privacy Enhancing Technologies and Learner Controlled Verifiable Credentials Forum" at Georgetown University Law Center on October 10. Between MDI's expertise in data governance and privacy enhancing technologies and DXtera Institute's expertise in managing institutional data, especially in higher education, the panels aimed to find ways to make it easier for educational institutions to use data safely.
MDI and DXtera have been working together for over two years to facilitate the safe use of data to improve societal conditions, according to Dale Allen, President and Co-Founder of DXtera Institute, who gave a welcome address at the start of the forum. 
"We are aligned on the same principles when it comes to the desire to utilize more data to improve societal outcomes," Allen said. "We want to protect the privacy of the individuals whose data is being utilized, we want to enable control to the user or agent of that data, and we want to develop and deploy innovative – or next generation – technology that supports the greater use of large amounts of critical data. I like to say that MDI plays on the macro side of the spectrum and we play on the micro side of the data spectrum, but we care about the same things."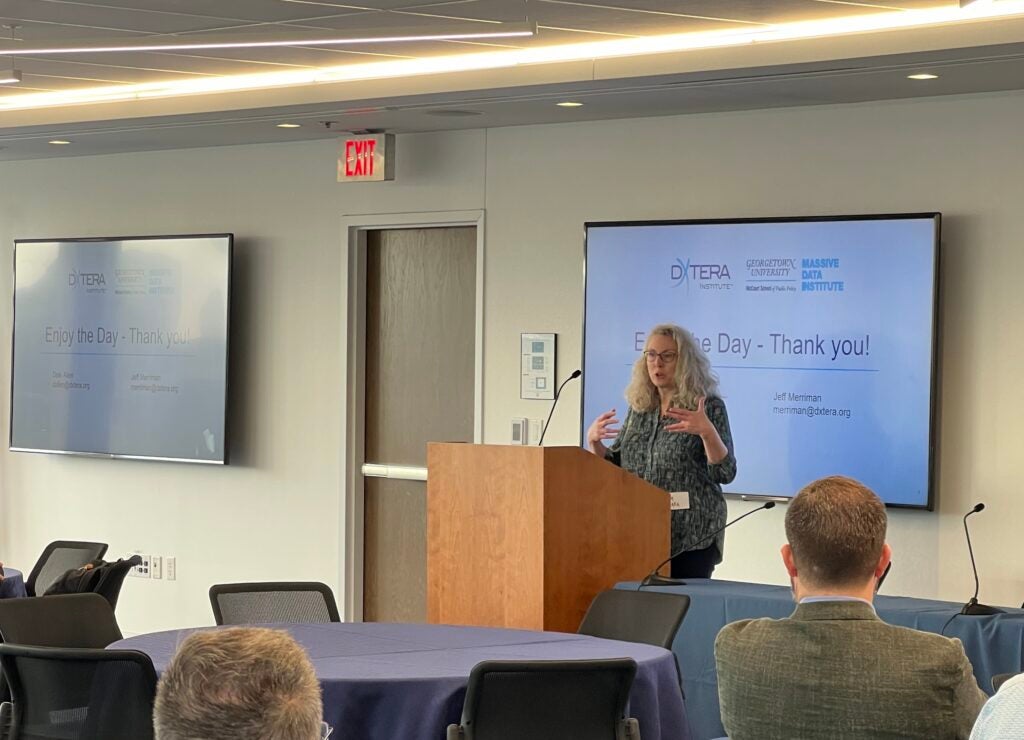 Research Professor Amy O'Hara said that the conference aimed to spread awareness about the utility of PETs — a group of technologies that protect the people in a given dataset, while still allowing that dataset to be fully used — across non-education domains and to initiate discussion about how education data users could integrate PETs into their existing data systems. Participants from the education sector were able to see how others in neighboring fields have used PETs to share and analyze data in a safer way. Panelists hailed from a variety of institutions to discuss these problems and potential solutions.
O'Hara facilitated the panel about PETs. Panelists discussed how PETs fit into different sectors, how to convince people to trust and use PETs, and how PETs can ultimately improve policy decisions.
Rachel Anderson, Vice President at Data Quality Campaign and forum attendee, said, "As someone focused on making it easier to use state education and workforce data to support learners, it's encouraging to explore the ways that privacy enhancing technologies could facilitate data access while safeguarding individuals' privacy. Tools like PETs could help state agencies choose both data privacy and meaningful transparency."
The forum consisted of two panels, one on PETs and one on Learner Controlled Verifiable Credentials (technologies that give learners the ability to control their educational and workforce credentials), as well as afternoon breakout sessions. Allen explained that "the Forum continues to be an event that provides a space for innovators, policy makers, practitioners and funders to explore the challenges, opportunities and collaborations that could support greater (safe) use of data across the education spectrum."
Attendees broke out into groups after the panels to tackle the difficult questions surrounding PET implementation, like the technological capacity required, staff effort, and legal hurdles.
"People walked away from the conference ready to keep pushing their own organizations and the education data community at large to seriously consider 'upping' their data privacy protections," O'Hara said.