Extracted from: https://mccourt.georgetown.edu/news/georgetown-students-advance-35-data-driven-policy-solutions/
Undergraduate and graduate students across the Georgetown community presented their research at the Massive Data Institute's annual research showcase.
The Massive Data Institute (MDI) Scholars program is an experiential learning opportunity for undergraduate and graduate students to work with faculty and researchers on cutting-edge research projects at the intersection of technology and public policy. These projects connect new forms of data and/or large-scale computing infrastructure to tackle timely policy issues, from forced migration, social movements and environmental policy, to elections, misinformation, data privacy and more.
This fall, 35 MDI Scholars (new window) across the Georgetown community teamed up with professors and research institutions to develop data-driven policy solutions for some of the most complex challenges facing our society. Over the course of the semester, students work with leading experts to explore the applications of data science in new and innovative ways.
Leading the next generation of data-driven policy solutions
"I've learned that I'm more resilient and creative than I thought going into the process," said MDI Scholar Abigail Wolfe (MS-DSPP'23). "I've learned how to approach analytical problems from multiple angles and to pick up new data science skills with relative ease compared to when I began my MS-DSPP coursework last year."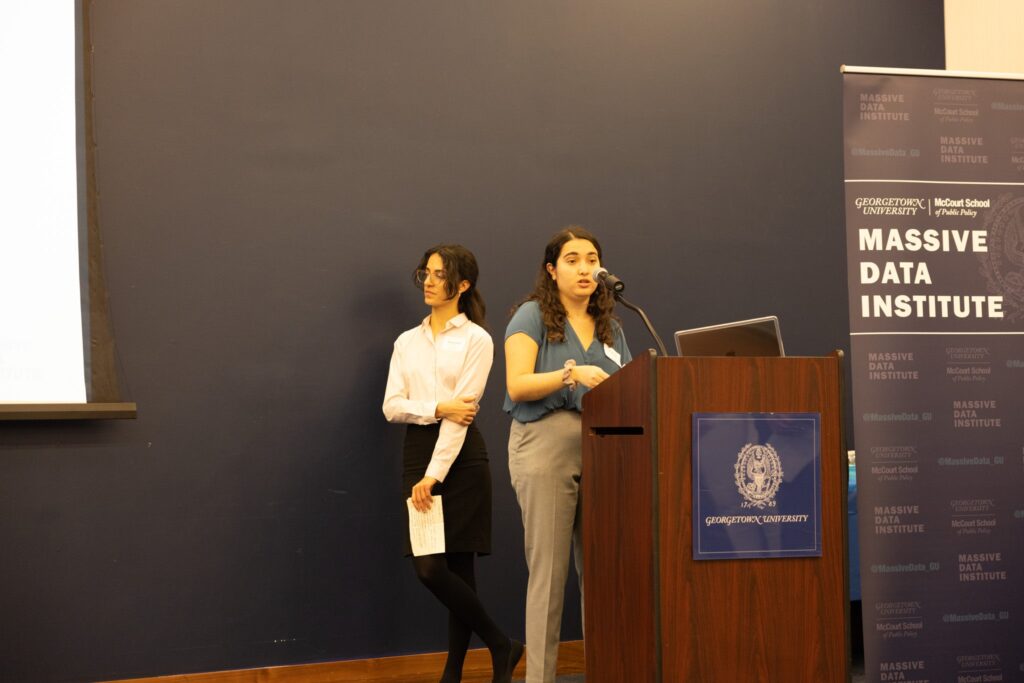 Wolfe and her research partner, MDI Scholar Natalie Smith (C'24), worked closely with McCourt School Assistant Professor Rebecca Johnson (new window) to research parents' rights in K-12 education.
Jenny Park (C'24) and her research partner Qihang Wang (DSAN'23) assisted MDI Director Lisa Singh (new window) in her research on forced migration. Park, who is double majoring in computer science and justice and peace studies, found a "unique opportunity" to blend together her interests in the MDI Scholars program.
Ethan Rosenbaum (MPP'23) joined the MDI Scholars program because he "wanted a chance to do both tangible environmental work and to apply the coding skills [he] gained in [his] coursework in a real-world setting." Rosenbaum's research with the Environmental Policy Innovation Center (new window) allowed him to do just that. When he first came to the McCourt School, Rosenbaum had hopes of becoming a legislative policy analyst at the federal level but since becoming an MDI Scholar, he has shifted his career plans entirely. 
"I really didn't come to McCourt intending to find a data-driven role, but now I can't imagine doing anything professionally that isn't focused on in-the-weeds data work," said Rosenbaum.
MDI Scholar Monroe Farris (DSAN'23) was in a similar position, bringing technical skills to MDI but no prior policymaking experience. After being accepted into the Scholars program, Farris was paired with Research Professor Amy O'Hara (new window) and the Civil Justice Data Commons (new window), working specifically on eviction statistics in Franklin County, Ohio. 
Farris' research helped open her eyes to the impact policymakers can have on the well-being of their constituents. "Since MDI is based in the McCourt School, it gives me a unique opportunity to learn more about policy and policymaking. MDI makes me feel like I could really have an impact in my career moving forward."
The MDI Scholars program has given countless Georgetown students the opportunity to explore their specific research interests and gain technical skills outside of the classroom. To learn more about the MDI Scholars program, visit their website (new window).